Giving Opportunity
Give Back to the U.S. Air Force on their 76th Birthday
September 18th is the 76th birthday of the Air Force. Honor this day with a donation.
About this Giving Opportunity
$4,140.58
Donated of $25,000.00
At First Command, we're dedicated to improving the financial futures of our Nation's military families. In times of financial emergency, service members need help. That's where service relief organizations like the Air Force Aid Society step in. To celebrate the U.S. Air Force's 76th Birthday, donate to their relief fund Air Force Aid Society, an organization that has provided unwavering support for Airmen and their families for over 80 years.
Show your support and let the Air Force community know they are not alone.
Donate to the Air Force Aid Society by September 29th and First Command will match the first $25K, doubling the impact of your donation!
Air Force Aid Society is not affiliated with First Command Financial Services, Inc., or any of its affiliated entities.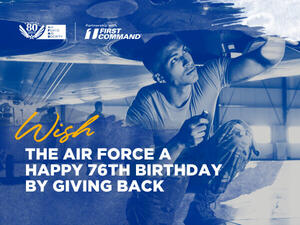 Causes in this Giving Opportunity

Arlington, Virginia, 22202-3405, United States
How Donations Work
Click any 'Donate Now' button and then decide your donation amount. You will then be forwarded to your payment processor of choice. Once your donation has been processed it will be sent to your charity of choice.
Need Some Help?